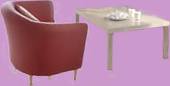 Terms explained, tips, facts and recipes. Find out about espresso and how to make great espresso the Italian way. You can even visit the virtual cafe and make your own coffee shop favourites.
Click to go behind the counter...>



New Music from the Coffee Lands CD

£11.95

There is no better way to get into your coffee than to listen to the sort of music played and listened to in coffee growing countries all over the World.